NEWS:
September 17, 2022 – Vancouver Island Homesteading Fair – Video of the Presentation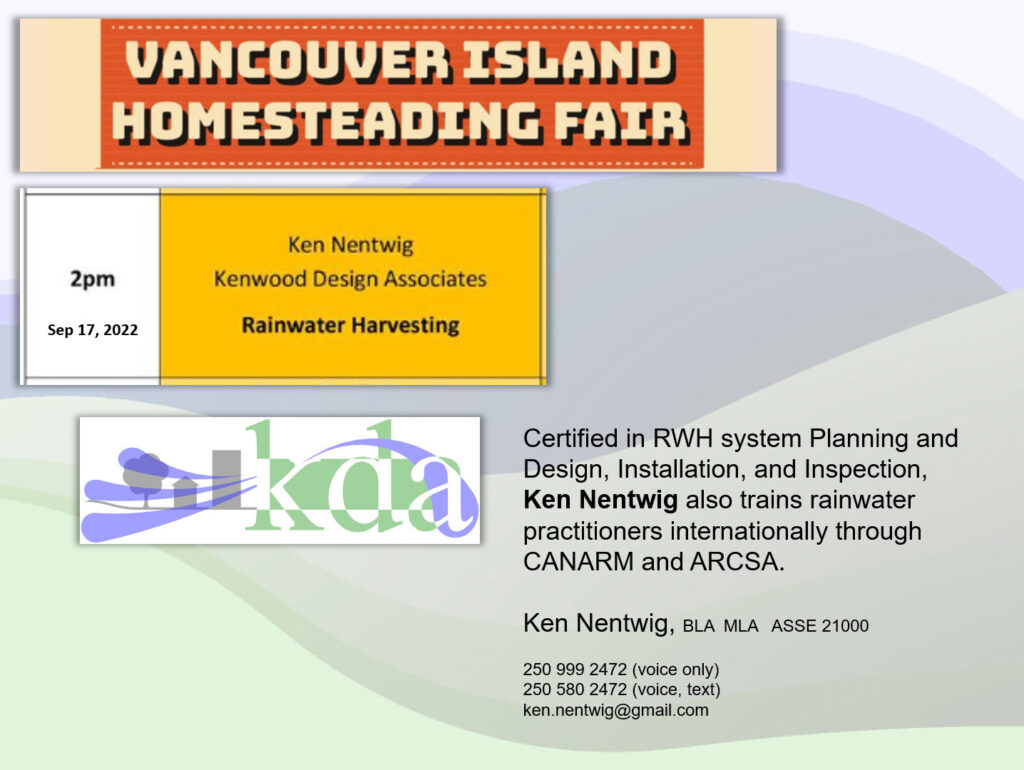 A new aspect, corporate identification and a logo, has been developed. This was rolled out in June 2020 for the purposes of Research, Training and Education in rainwater harvesting.
RAINWATER CANADA is the corporate identity, here is the logo.
Contact is via email ken.nentwig@gmail.com or phone 250 999 2472. Of course, the CONTACT PAGE is always available as well.

The main thrust currently is the CANARM Rainwater Practitioner Certification Program for Canada. Fifteen hours of webinars have been prepared, and are presented online through CANARM (www.canarm.org).
This takes the training program out of the classroom, and makes it accessible to anyone, anytime, anywhere. Especially during the COVID-19 difficulties, online training makes the most sense.
Working in various circles simultaneously, it became evident that a centralized place for my work was necessary. As a trainer and instructor, and in the development of education programming, a lot of background information was gathered and perused. Testing of ideas and concepts, and the development of manners of accomplishing various tasks included in the course materials, needed to be explored.
Along with that, project work and design opportunities were being undertaken, each with their own research and development aspects. Put together, the work with real project case studies, and the trial runs of calculations, spreadsheets, and forms could be amassed. The resultant list of 'accomplishments', really small steps along the way, is now being corralled in one central location, under the headings of 'Case Studies', 'Research', and 'Information'.
New ideas and processes, as they are met, are being introduced and evaluated. This is a work in progress, and new developments will be shared as they occur.