Rainwater Retrofit: 100 yr old House
Rainwater Retrofit: 100 yr old House
Rainwater Harvesting Systems are gaining popularity, and many of the regulations in development are geared more to new construction.  Retrofitting an existing property can be tricky, but will likely become a more common occurance in the near future.
Take a stately 100 yr old three-storey residence in Victoria, where new owners want to be environmentally and ecologically responsible, grow some of their own food, and reduce the stormwater runoff from impervious surfaces.  In many ways the process is identical to new construction, however there are some very real concerns:
– existing pavement that interferes with running underground collection and distribution lines
– old roofing materials, gutters and fascia that may need upgrading
– an existing landscape that will suffer if disturbed for underground infrastructure
– phasing to accommodate available funds and the varied DIY activities of the owners
It's an interesting journey, with several very distinct parts to the rainwater harvesting system design and implementation.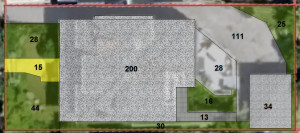 The site plan has been divided into areas of IMPERVIOUS and PERVIOUS surfaces, with the square meter area shown.  These areas become the basis of calculation for POTENTIAL CATCHMENT and also STORMWATER RUNOFF, as well as the use areas for VEGGIE GARDEN and LANDSCAPE IRRIGATION.
Existing properties where rainwater harvesting is intended to be installed often have peculiarities that don't come up in new construction.  This 100 yr old home in Victoria has new, young owners, intent on doing their part to help save precious water resources, and to reduce the carbon energy footprint.
Currently, water runs onto the property – lawn or driveway – from the downspouts three floors up.  For half of the property, this helps water the lawn and gardens, well established and in reasonably good shape.  For the other half, water runs onto paved surfaces and out to the street via the driveway.  Gutters are metal, with soldered joints; the roof is shingled and old (other than the garage which has newer shingles); and the fascia boards are weak and rotting is  some areas.
Along with interior renovations and upgrading, the landscape use of rainwater is high on the list of priorities.  Without damaging and/or replacing existing pavement and landscaping, rainwater harvesting will need to take some detours and special attention to be suitably implemented.
Three direct uses for harvested rainwater are envisioned.  Each of these is dealt with separately in this report:
Veggie Garden Irrigation by Gravity Feed                                          (take me there)
Landscape Irrigation With Hose-end Sprinkler                             (take me there)
Stormwater Detention                                                                               (take me there)